Upgrade Your Home
Why Upgrade the Insulation in Your Home?
Heating and cooling account for 50-70% of the energy used in the average American home each year. Inadequate insulation and air leaks cause a lot of energy and money to be wasted each year.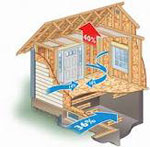 Energy Savers' Upgraded Insulation:
Saves money
Saves energy resources
Makes your house more comfortable
Makes walls, ceilings, and floors warmer in the winter and cooler in the summer.
The amount of energy you conserve will depend on several factors:
Your local climate
The size, shape, and construction of your house
The living habits of your family
The type and efficiency of the heating and cooling systems
The fuel you use.
Once your new energy savings have paid for the installation cost, energy saved is MONEY IN YOUR POCKET - and saving energy will only get more important as utility rates go up.
Call us at 907-373-6888 for more information.
We serve in and around the Mat-Su area, including Wasilla, Palmer, and Anchorage, AK.
Areas to Insulate:
Attics
Exterior Walls
Garage Walls
Basements
Crawlspaces
Soundproof Rooms